Ostrich boots are one of the finest leather products on the market. Not only is it produced in smaller numbers than cowhide, but ostrich is not as abundant as cows in most parts of the world.
Ostrich leather is extremely durable and can last for decades if properly cared for. In that regard, there are some NOs when it comes to caring for ostrich leather products and one of them is…..
Ostrich leather boots are not waterproof and cannot repel water, so it doesn't matter if your ostrich leather boots get wet. It should be sprayed with a water-repellent coating to protect it from water, but never use silicone-based sprays on ostrich leather.
Learn more about ostrich leather items through this comprehensive guide I have prepared.
Is ostrich leather waterproof?
Ostrich leather is not waterproof at all, but you can make it somewhat water repellent by spraying it with a good Scotchgard. But remember that doing so will darken your ostrich leather boots to some extent.
Therefore, you should keep your ostrich boots as far away from the water as possible. Because ostrich boots cannot be thoroughly washed with liquids, permanent watermarks can form on the boots, making them difficult to remove.
Below are the care and cleaning instructions for your ostrich boots…..
How to fix wet ostrich boots?
If you happen to get your ostrich boots wet by being caught in the rain or unintentionally stepping into a puddle, go home immediately and open your boots.
Stuff the inside of the boot with a dry towel to soak up the moisture inside and dab the outside of the boot with a dry cotton cloth. Do not rub the surface of your ostrich boot with a cloth or brush. It will spoil the finish of the boot.
Then place the boots under a fan to dry them completely.
How to clean ostrich boots?
Cleaning ostrich boots is the same as cleaning other leather boots. Because ostrich skin is considered exotic leather and requires professional maintenance care.
Let's start with the basics…..
How to clean dust from ostrich boots?
Use a clean, dry cotton cloth to clean dust from the surface of your ostrich boot. Do not use brushes on them.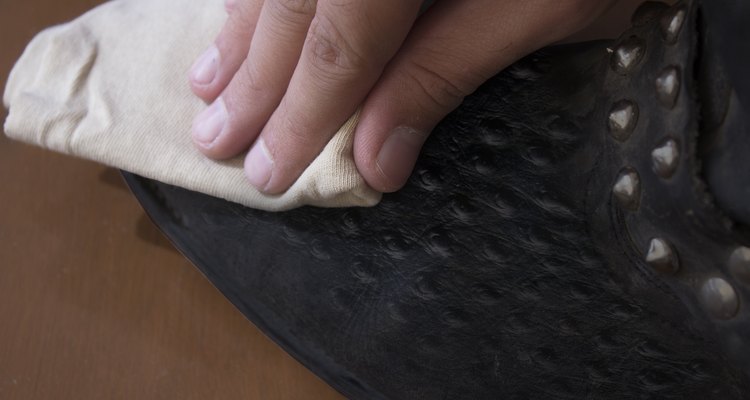 How to clean mud from ostrich boots?
If you somehow get mud on your boots, grab a wet cloth (squeeze the water out of the cloth well). Do not let water get inside your boots.
How to clean oil from ostrich boots?
The day may come when you accidentally spill oil on your ostrich boots. please do not worry! Sprinkle the grease with talcum powder and let it sit for about 30 minutes. Then take a clean, dry, lint-free cloth and scrub the grease off.
How do I care for my ostrich leather boots?
Ostrich leather is an exotic leather, so don't use regular conditioner on ostrich boots. Only use exotic leather conditioners for this purpose.
Also, apply the conditioner gently with your fingers or a cloth so as not to rub the boots too much.
Note: Buffing ostrich leather detracts from the finish of the leather, making buffing ostrich leather dull.
How waterproof are ostrich boots?
Ostrich leather boots are not waterproof, so a water-repellent layer should be added to prevent damage if they encounter water.
Do not use silicone-based water repellent sprays on your ostrich leather boots.
Frequently Asked Questions
How often should I condition my ostrich boots?
To keep your ostrich leather soft, supple and dry, condition it once a month with Exotic Leather Conditioner.
What is the lifespan of ostrich boots?
Ostrich boots can last a lifetime if you take care of them. That's because ostrich leather is extremely durable despite its soft texture, and can withstand the harsh elements of nature in the same way as cowhide boots.
Can my ostrich boots get wet?
Ostrich boots are not water resistant and should not be splashed with water. If you find yourself in this situation, immediately grab a dry cloth and dry the surface of your boot.
What's so special about ostrich boots?
There's a reason it's called exotic leather. Ostrich boots are not only soft and supple to the touch and feel luxurious, but they are also more durable, supple, stronger and tactile than typical leather boots.
Can ostrich leather crack?
No! Ostrich leather contains natural oils that prevent your boots from cracking.
See also How long do full ostrich cowboy boots last?
And rap!
Ostrich boots are like a one-time investment. With proper care, it can last a lifetime.
With that said, keep your ostrich boots out of the water and don't forget to condition and waterproof them. Because we don't know what Boots will face until the next day.
This is the only friend of this post. I hope you enjoy reading with me. Take care and congratulate!