Overalls are protective clothing that protects us from harmful substances and dirt in the workplace.The answer is in the name itself. "Overalls" worn over everyday clothes! Therefore, you can and should wear trousers or jeans under your overalls.
Are you wearing underpants under your pants or jeans?
That's a given, right?
So Wearing trousers or jeans under overalls is also mandatory and there are many reasons What I am going to share with you in this post is…..
What are overalls?
As defined by the Oxford Dictionary, overalls are:
"A loose-fitting coat or one-piece garment worn over ordinary clothing to protect against dirt and heavy abrasion."
Overalls have a variety of names in different places, being called dungarees in North America and also bib and braces overalls elsewhere.
There are two types of overalls: those that cover the entire body and those that consist only of a bib and pants (dungarees).
History of overalls:
Overalls were first used by the British Army in the 1750s as a protective cover for formal clothing.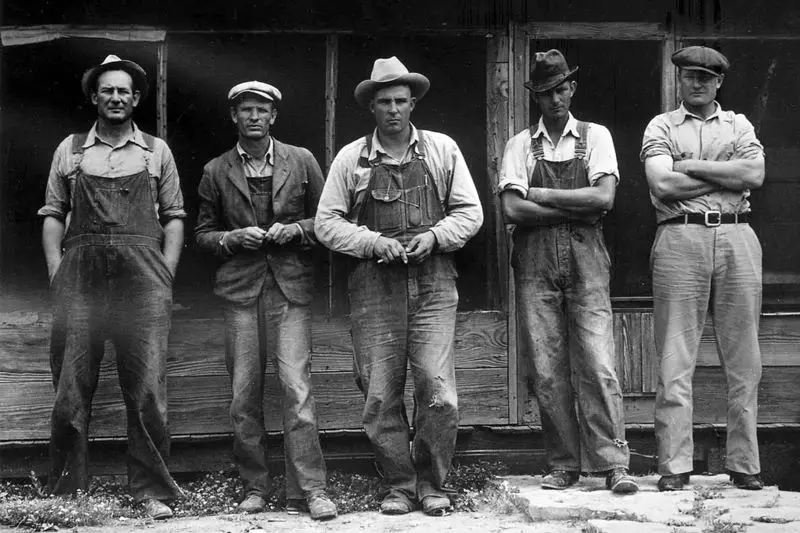 Overalls were then refined using a denim material that proved to be very durable and comfortable for long hours of work in harsh and dirty environments, and by the early 20th century they were used by construction workers and mines. Most workers such as workers now wear overalls. and railroad workers.
Should I wear pants under my overalls?
As mentioned in the section above, there are two types of overalls.
full body protective clothing

The other is a denim dungaree with a bib and trousers
So if you're wearing proper overalls, which are actually protective clothing to protect you from harsh work elements like chemicals, toxins and dust, you should wear regular clothing underneath. .
Overalls may be transparent or made of waterproof material that is not comfortable to wear barely against the skin.
Cotton, linen, and denim overalls are breathable and soft fabrics, but there are also overalls made from plastic, nylon, leather, etc., depending on the type of work.
A denim dungaree that includes a bib and pants can be worn alone without wearing pants underneath.
See also What is the strongest fabric for pants?
What should I wear under my overalls?
You must definitely wear clothes under your overalls.
But the question is, what kind of clothing is suitable to wear under overalls?
It's okay to wear regular clothes under your overalls, but when choosing clothes to wear under your overalls, you should keep the following in mind:
1.) Overalls aren't comfortable anyway, so wear breathable fabrics so you don't feel hot and uncomfortable
2.) Make sure the fabric is moisture-wicking, like cotton, so sweat doesn't settle on your body and make you uncomfortable all day long.
3.) Short-sleeved shirts are suitable for overalls. Otherwise, the sleeves can pop out of the overalls and get dirty, and you'll have to adjust them throughout the day.
4.) Try wearing elastic pants with your overalls as belted pants can be very uncomfortable to adjust under your overalls
5.) T-shirts are better suited for overalls than formal shirts.
6.) When it's cold, it's better to wear a sweater than a jacket under your overalls.
See also how do you break overalls
How are overalls supposed to be worn?
Overalls are like a costume for children. It is also worn by armies of various countries.
The correct way to wear overalls is to put on your casual clothes first and then your overalls.
When wearing overalls, please pay attention to the following points:
1.) Choose a size larger than your normal clothing size for overalls.
2.) Baggy overalls offer a better experience
3.) Put on your clothes first and then start sliding all over, starting with your legs and starting with your arms.
4.) Some overalls have buttons, but most have zippers.
Are the overalls loose or tight?
The overalls are a bit loose and baggy, and never form a snug fit.
If it's already a tight fit, try wearing your regular clothes inside and zip it up all over, and it won't fit any further.
Overalls are protective clothing, not for style. Therefore, to minimize body contact while protecting against toxic chemicals, dirt, mud, dust, and even fire hazards, overalls should be baggy. must fit in.
Tight overalls make you feel like you're trapped in something suffocating and make you sweat profusely.
And rap!
If the overalls are made of denim, like dungarees, then there is no need to wear jeans underneath. However, it is recommended to wear jeans underneath for see-through materials such as cotton.
We only believe in providing you with genuine information so that you can benefit from it.
If you enjoyed reading this post and liked it, stay tuned for more exciting articles on workwear and fashion.
Until then, keep working, keep shaking,
Have a great year!