Very few people have perfect bodies. Everyone is slightly different when it comes to body types, so no clothing style will fit two people the same.
Clothing style can contribute to the overall effect of dressing. Oversized clothes and baggy trousers fall into this category and rarely make a person look skinnier because they hang from the body.
Your body may look as big as your clothes. They don't provide contour to your silhouette.
Should thin men wear baggy pants?
If you are very thin, there may be a misconception that wearing baggy or loose-fitting pants will somehow make you look thinner. Thin people wearing baggy clothes will only end up looking thinner than they actually are.
Another error is buying clothes that are a few sizes too big. Oversized clothes are often a fashion trend.
However, if you like this style, be sure to purchase the appropriately sized design so that it hangs properly around your body frame. Buying more than one size may result in the garment being too long or baggy in the wrong places.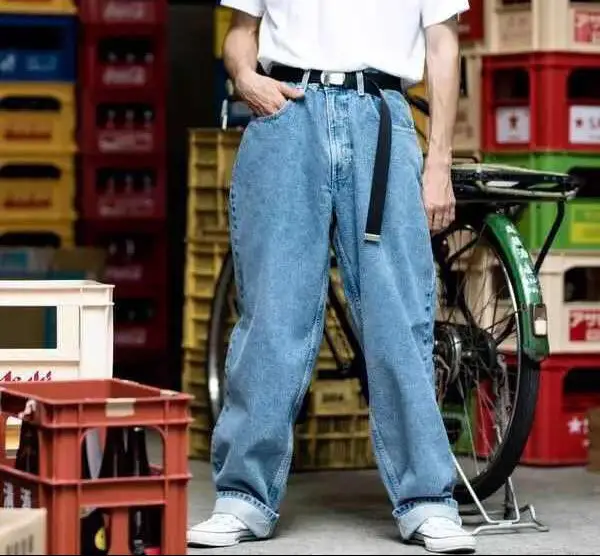 Sweatpants are also a fashion favorite and are baggy, but if you're trying to achieve the street-savvy skater look, choosing to wear baggy jeans or loose-fitting sweatpants is a good choice.
If you are thin and want to achieve a firmer look, choose nice slim-fitting pants or jeans.
If you have a slim silhouette and want to include baggy pants in your clothing options to make you appear fuller, choose thicker fabrics and don't forget to layer your clothing choices.Don't rely solely on baggy pants .
Should Fat Men Wear Baggy Pants?
No, a baggy fit is not appealing to heavier or overweight men. They are usually very unattractive.
You might think that baggy pants hide those extra unwanted pounds, but more often than not, baggy pants add pounds instead of hiding them. You should choose slacks that fit properly.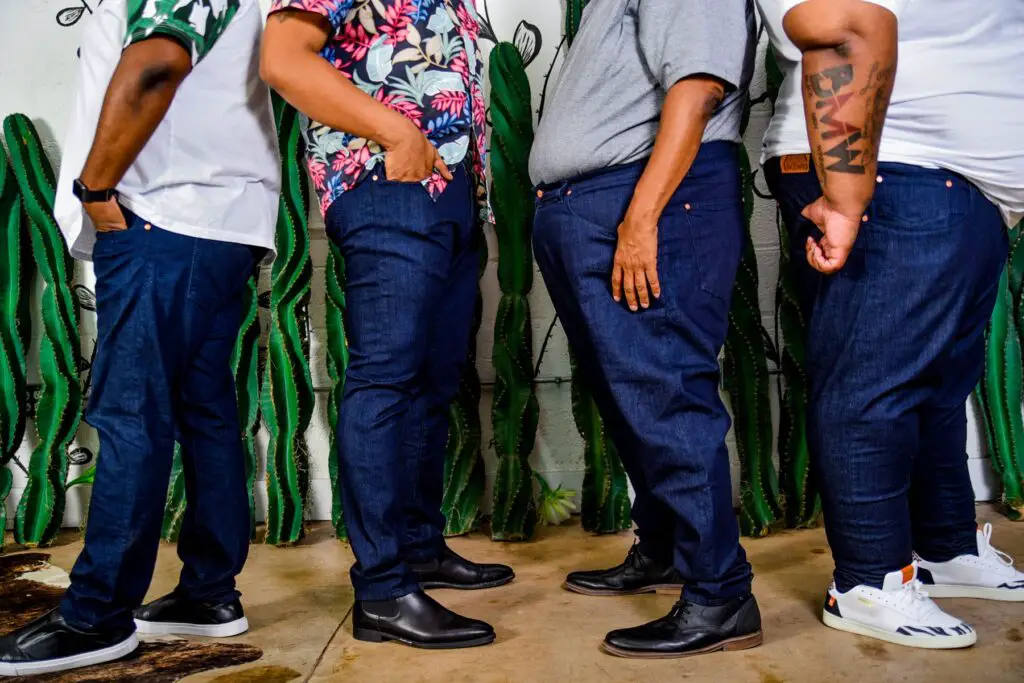 Larger men often wear baggy pants to hide their bulk. The extra fabric draws attention to your extra girth instead of hiding it.
Choosing baggy pants can be a reaction to tighter styles of clothing that fat people find uncomfortable.
Overweight people don't want to wear pants that are bulky or accentuating, so they should avoid baggy pants. Because it will ruin the new body shape.
proper fit
It is important that the clothes fit correctly. When wearing slacks, your thumbs should move smoothly between your pants and your waist.
If the pants you choose have pleats, the pleats should lay flat and not spread out, especially if you are standing. No pleats are included for roominess. They contribute to fabric movement.
waistline fit
When it comes to your waistline, there is a lot to be said about where you should place your pants. .
Wearing pants under your hips will ruin your proportions and accentuate your belly, making it look even bigger.
Wearing the trousers around the middle makes the extra weight in the middle less noticeable.
Buy the correct pant waist size that allows you to wear the pant at your navel. You can also choose a longer belt or a pair of suspenders. Don't choose a pant size or style that makes your gut stand out more.
When is Baggy Pants OK?
Baggy pants can be a fashion statement or simply comfortable, but they're not the right outfit for every occasion.
Depending on your profession, it can make you look sloppy at work and even be seen as unprofessional in certain work environments.
Baggy pants may be sufficient when relaxing, running errands, or going to casual gatherings and parties.
If you're particularly skinny, baggy pants aren't the solution. To create a fuller look, layer fitted clothes for a more polished result.
Baggy pants: yes or no?
It really depends on why you wear baggy pants. For those who want to wear it casually as fashion, or for those who want to wear it because it is comfortable.
The reality is that clothing, including baggy trousers, does not change the figure. Choosing the right outfit will give you a balanced and nice look.
Clothes that are supposed to make you look slimmer can put some pressure on your waistline and reduce your comfort.
Baggy clothes may be comfortable to wear, but they don't look neat.
Do baggy pants make you look bigger?in the case of overweight manthe most likely answer is yes baggy pants make you look bigger By drawing attention to your excess weight.
In that case, very thinBaggy pants may draw attention to their thinness.
To determine if baggy pants are right for you, try on the correct size, look in the mirror and critically assess your body's silhouette.
Once you've chosen a pair, wear them in the right situation where casual baggy pants are the perfect outfit choice.