the simple answer is No! You cannot run with logger boot as it is not intended for that purpose.
Logger boots are arguably the best boots when walking on concrete or traversing uneven hilly terrain. Because it offers great arch support and great traction. Due to the higher construction of the Logger Boot, the ankle is also well supported.
But for all the logger boots' pros, they aren't great for running. Because they are sturdy boots with high heels that extend well above the ankle. Both hinder the free movement of your legs and feet while running!
This article details why logger boots aren't the best for running and what problems they can cause while running. ..
The Logger Boot is a very professional boot when it comes to walking on hills, marshes and rough terrain. They are very sturdy boots and not for casual outings.
First of all, from the characteristics of logger boots.
Features of Logger Boots
1.) Logger boots are high ankle boots
They are very tall boots that extend to the mid-calf and cover high above the ankle area. It is very suitable for the work of
2.) Logger boots are high heels
The high heel of the Logger boot provides enhanced heel support, giving way to the all-important arch support and also acts as a shock absorber for the heel.
3.) Logger boots provide good arch support
Yes, the Logger Boots have a curved arch for all-day comfort. Because the arch gives you cushion and support while walking over rough and uneven terrain.
4.) Logger boots have a full lace-up system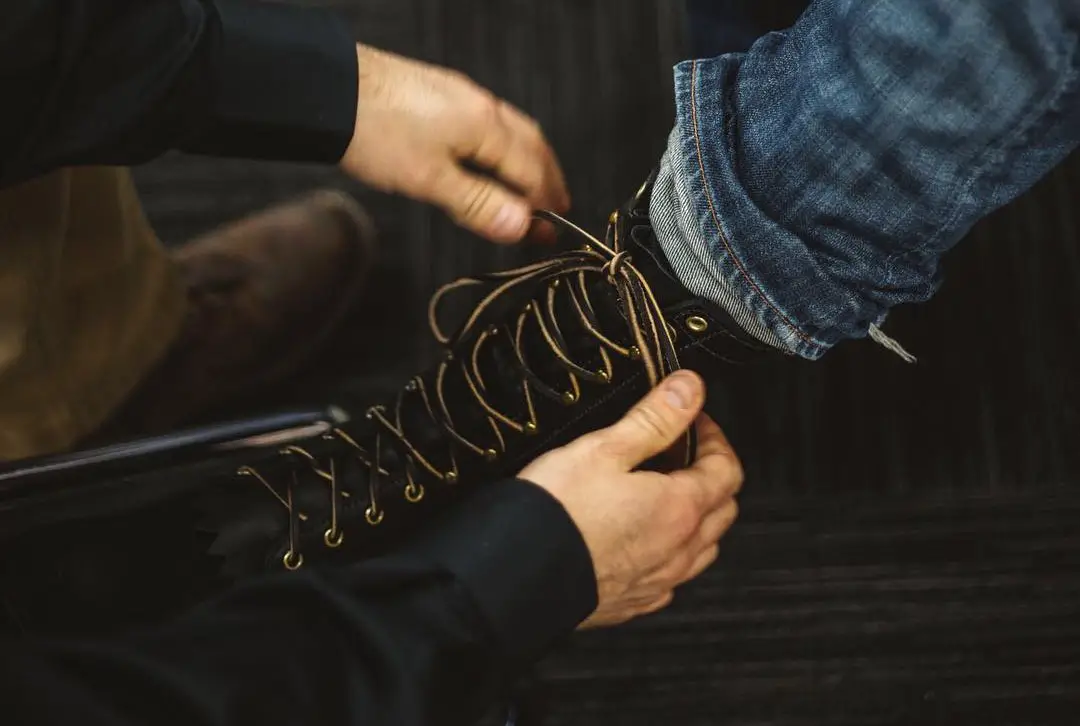 A full lace-up system allows the boot to fit your foot comfortably. It can be loosened or tightened at any time depending on the situation.
5.) Logger boots provide excellent traction
Some logger boots have spikes to hold onto wet and slippery ground, and even if some logger boots don't have spikes, a sturdy outsole with grooves and ridges and all slippery There are self-cleaning soles that work equally well on the ground.
Pros of Logger Boots
Now that you know what's good about logger boots, let's review the benefits of wearing logger boots.
1.) Logger boots are great for landscaping and concrete work because tall structures don't let material get into the boot.
2.) High heels provide great grip when walking uphill, climbing slippery terrain or ladders.
3.) The arch support of the Logger Boots is unmatched, making them perfect for people with flat feet and for walking all day as they are free from sore feet at the end of the day.
4.) It has good shock absorption ability, your feet won't get tired after a long day.
5.) Finally, the best and most important feature is the ankle ankle that will save you in many situations such as twisting your ankle, protecting it from insect and snake bites when walking in mud, etc. Support.
Cons of Logger Boots
Despite all the positive aspects, there are some situations where wearing logger boots is not considered the best decision.
1.) Due to its weight, it is not very comfortable to wear all day, every day.
2.) High heels can be a disadvantage for people who cannot walk in heels and have sore feet due to heels as they put extra pressure on the foot.
3.) It covers almost half of the calf area and restricts the free movement of the foot, so you can't walk fast.
4.) If it's hot outside, your feet will get hot and you may suffocate.
Are logger boots suitable for running?
Each boot is designed for a specific purpose, and so are the logger boots for heavy-duty work. These are no ordinary boots for running!
First of all, the weight of logger boots is too heavy for running.
The logger boot height is too big, you need a little ankle support while running, but the logger boot height also covers the calf so your foot doesn't bend or flex while running .
You can run between work if you want for some purpose, but it's not the best option, especially if you run every day.
Health effects of running in logger boot:
Before planning a run in logger boots, check out the health effects they bring.
1.) The weight can give your feet real pain
2.) High heels put extra pressure on your heels and can lead to heel and knee pain
3.) Running in logger boots makes joint and leg pain a daily problem
4.) Limited foot and leg movement can cause you to lose your balance and fall while running
What is Logger Boot good for?
The most common uses for logger boots are forestry, concrete, hills, mudThe height of the shaft makes the logger boot safer in the woods as it protects against toxic insect bites and keeps mud and water from entering the boot.
Logger boot heels help you climb ladders and climbs. Deep lugs hold up well on slippery and uneven ground.
Safety features like toe protection, water resistance and insulation help prevent injuries and keep you comfortable in any weather.
And it's a wrap!
Why waste effort and make life a pain in logger boots when there are shoes specifically designed for running that are lightweight, flexible and breathable?
Wear logger boots where they're useful: working concrete, winter, mud, working on utility poles, hiking.